Пакет: autocutsel (0.9.0-1) [universe]
Връзки за autocutsel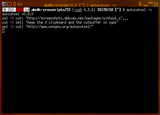 Ресурси за Ubuntu:
Изтегляне на пакет-източник autocutsel.
Отговорник:
Please consider filing a bug or asking a question via Launchpad before contacting the maintainer directly.
Original Maintainers (usually from Debian):
Elmar S. Heeb
Gürkan Sengün
Axel Beckert
It should generally not be necessary for users to contact the original maintainer.
Външни препратки:
Подобни пакети:
Keep the X clipboard and the cutbuffer in sync
This tracks changes in the server's cutbuffer and clipboard selection. when the clipboard is changed, it updates the cutbuffer. When the cutbuffer is changed, it owns the clipboard selection. The cutbuffer and clipboard selection are always synchronized. In the case of a VNC client since it synchronizes the Windows' clipboard and the server's cutbuffer, all three "clipboards" are always kept synchronized. When you copy some text in Windows, the cutbuffer and the clipboard selection are updated. When you copy text on the server using either the cutbuffer or the clipboard selection, the Windows's clipboard is always updated.
Други пакети, свързани с autocutsel
enh:

emacsen

виртуален пакет, предлаган от emacs, emacs-snapshot, emacs-snapshot-nox, emacs22, emacs22-gtk, emacs22-nox, emacs23, emacs23-lucid, emacs23-nox, xemacs21-mule, xemacs21-mule-canna-wnn, xemacs21-nomule

enh:

vnc-viewer

виртуален пакет, предлаган от tightvnc-java, vnc-java, xtightvncviewer, xvnc4viewer