Paket: munin-node (1.4.6-3ubuntu3.4) [security]
Links für munin-node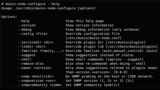 Ubuntu-Ressourcen:
Quellcode-Paket munin herunterladen:
Betreuer:
Please consider filing a bug or asking a question via Launchpad before contacting the maintainer directly.
Original Maintainers (usually from Debian):
Munin Debian Maintainers
Holger Levsen
Stig Sandbeck Mathisen
Tom Feiner
Steve Schnepp
It should generally not be necessary for users to contact the original maintainer.
Externe Ressourcen:
Ähnliche Pakete:
network-wide graphing framework (node)
Andere Pakete mit Bezug zu munin-node
sug:

acpi

displays information on ACPI devices

oder lm-sensors

utilities to read temperature/voltage/fan sensors

sug:

ethtool

display or change Ethernet device settings

sug:

hdparm

tune hard disk parameters for high performance

sug:

libcache-cache-perl

Managed caches of persistent information

sug:

libcrypt-ssleay-perl

Support for https protocol in LWP

sug:

libdbd-mysql-perl

Perl5 database interface to the MySQL database

sug:

libdbd-pg-perl

Perl DBI driver for the PostgreSQL database server

sug:

libet-irc-perl

Paket nicht verfügbar

LWP useragent that retries errors

sug:

libnet-ssleay-perl

Perl module for Secure Sockets Layer (SSL)

sug:

libtext-csv-xs-perl

Perl C/XS module to process Comma-Separated Value files

sug:

libxml-simple-perl

Perl module for reading and writing XML

sug:

logtail

Print log file lines that have not been read (deprecated)

sug:

munin

network-wide graphing framework (grapher/gatherer)

sug:

munin-java-plugins

network-wide graphing framework (java plugins for node)

sug:

munin-plugins-extra

network-wide graphing framework (user contributed plugins for node)

sug:

mysql-client

MySQL database client (metapackage depending on the latest version)
auch ein virtuelles Paket, bereitgestellt durch mysql-client-5.5

sug:

net-tools

The NET-3 networking toolkit

sug:

python

interactive high-level object-oriented language (default version)

sug:

smartmontools (>= 5.37-6~bpo40+1)

control and monitor storage systems using S.M.A.R.T.
munin-node herunterladen
Download für alle verfügbaren Architekturen

| Architektur | Paketgröße | Größe (installiert) | Dateien |
| --- | --- | --- | --- |
| all | 327,6 kB | 1.185,0 kB | [Liste der Dateien] |