Paquet : centerim (4.22.9-1ubuntu1) [universe]
Liens pour centerim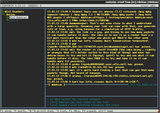 Ressources Ubuntu :
Télécharger le paquet source centerim :
Responsable :
Please consider filing a bug or asking a question via Launchpad before contacting the maintainer directly.
Original Maintainers (usually from Debian):
Anibal Avelar
Dmitry E. Oboukhov
It should generally not be necessary for users to contact the original maintainer.
Ressources externes :
Paquets similaires :
A text-mode multi-protocol instant messenger client
Centerim is a fork of the centericq instant messaging client
Centerim is a text mode menu- and window-driven IM client program that supports the ICQ2000, Yahoo!, AIM, MSN, IRC and Jabber protocols.
Autres paquets associés à centerim
rec:

firefox

Safe and easy web browser from Mozilla

ou abrowser

Safe and easy web browser from Mozilla - transitional package

ou www-browser

paquet virtuel fourni par arora, chimera2, chromium-browser, conkeror, edbrowse, elinks, elinks-lite, elvis, elvis-console, epiphany-browser, firefox, konqueror, links, links2, lynx-cur, midori, netrik, netsurf, rekonq, seamonkey-browser, w3m, xemacs21-mule, xemacs21-mule-canna-wnn, xemacs21-nomule

rec:

sox

Swiss army knife of sound processing