パッケージ: phpsysinfo (3.0.4-0ubuntu2) [universe]
phpsysinfo に関するリンク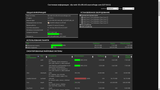 Ubuntu の資源:
phpsysinfo ソースパッケージをダウンロード:
メンテナ:
Please consider filing a bug or asking a question via Launchpad before contacting the maintainer directly.
Original Maintainers (usually from Debian):
Frederik Schüler
Bjoern Boschman
It should generally not be necessary for users to contact the original maintainer.
外部の資源:
ホームページ [phpsysinfo.sourceforge.net]
類似のパッケージ:
PHP based host information
phpSysInfo is a PHP script that displays information about the host being accessed.
It displays informations on the system like kernel version, uptime, network, disk and memory usage, informations on CPU and model, attached IDE and SCSI devices and PCI cards and lm-sensors output on architectures supporting it.
It has support for multiple languages and themes.
その他の phpsysinfo 関連パッケージ
dep:

apache2

Apache HTTP Server metapackage
以下のパッケージによって提供される仮想パッケージでもあります: apache2-mpm-event, apache2-mpm-itk, apache2-mpm-prefork, apache2-mpm-worker

または httpd

以下のパッケージによって提供される仮想パッケージです: aolserver4-core, aolserver4-daemon, apache2-mpm-event, apache2-mpm-itk, apache2-mpm-prefork, apache2-mpm-worker, boa, bozohttpd, cherokee, dhttpd, ebhttpd, fnord, lighttpd, mathopd, micro-httpd, mini-httpd, monkey, nginx, ocsigen, thttpd, tntnet, webfs, yaws

dep:

php5

server-side, HTML-embedded scripting language (metapackage)
sug:

hddtemp

hard drive temperature monitoring utility

sug:

lm-sensors

utilities to read temperature/voltage/fan sensors