パッケージ: powertop (1.11+git20091208-0ubuntu1)
powertop に関するリンク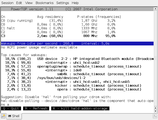 Ubuntu の資源:
powertop ソースパッケージをダウンロード:
メンテナ:
Please consider filing a bug or asking a question via Launchpad before contacting the maintainer directly.
Original Maintainers (usually from Debian):
Patrick Winnertz
Jose Luis Rivas
It should generally not be necessary for users to contact the original maintainer.
外部の資源:
ホームページ [www.linuxpowertop.org]
類似のパッケージ:
Linux tool to find out what is using power on a laptop
PowerTOP is a Linux tool that finds the software component(s) that make your laptop use more power than necessary while it is idle. As of Linux kernel version 2.6.21, the kernel no longer has a fixed 1000Hz timer tick. This will (in theory) give a huge power savings because the CPU stays in low power mode for longer periods of time during system idle.
However... there are many things that can ruin the party, both inside the kernel and in userspace. PowerTOP combines various sources of information from the kernel into one convenient screen so that you can see how well your system is doing, and which components are the biggest problem.
その他の powertop 関連パッケージ
dep:

libc6 (>= 2.7)

Embedded GNU C Library: Shared libraries
以下のパッケージによって提供される仮想パッケージでもあります: libc6-udeb

dep:

libncursesw5 (>= 5.6+20071006-3)

shared libraries for terminal handling (wide character support)
sug:

cpufrequtils

utilities to deal with the cpufreq Linux kernel feature

sug:

laptop-mode-tools

Tools for Power Savings based on battery/AC status