Pakket: backuppc (3.2.0-3ubuntu4~lucid1)
Verwijzigingen voor backuppc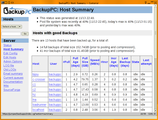 Ubuntu bronnen:
Het bronpakket backuppc downloaden:
Beheerder:
Please consider filing a bug or asking a question via Launchpad before contacting the maintainer directly.
Original Maintainer (usually from Debian):
It should generally not be necessary for users to contact the original maintainer.
Vergelijkbare pakketten:
high-performance, enterprise-grade system for backing up PCs
BackupPC is disk based and not tape based. This particularity allows features not found in any other backup solution:

 * Clever pooling scheme minimizes disk storage and disk I/O.
   Identical files across multiple backups of the same or different PC are
   stored only once resulting in substantial savings in disk storage and disk
   writes. Also known as "data deduplication".
 * Optional compression provides additional reductions in storage.
   CPU impact of compression is low since only new files (those not already
   in the pool) need to be compressed.
 * A powerful http/cgi user interface allows administrators to view log files,
   configuration, current status and allows users to initiate and cancel
   backups and browse and restore files from backups very quickly.
 * No client-side software is needed. On WinXX the smb protocol is used.
   On Linux or Unix clients, rsync or tar (over ssh/rsh/nfs) can be used
 * Flexible restore options. Single files can be downloaded from any backup
   directly from the CGI interface. Zip or Tar archives for selected files
   or directories can also be downloaded from the CGI interface.
 * BackupPC supports mobile environments where laptops are only intermittently
   connected to the network and have dynamic IP addresses (DHCP).
 * Flexible configuration parameters allow multiple backups to be performed
   in parallel.
 * and more to discover in the manual...

Andere aan backuppc gerelateerde pakketten
dep:

adduser (>= 3.9)

add and remove users and groups

dep:

apache2

Apache HTTP Server metapackage
Ook een virtueel pakket geboden door: apache2-mpm-event, apache2-mpm-itk, apache2-mpm-prefork, apache2-mpm-worker

of httpd

virtueel pakket geboden door ocsigen

dep:

bzip2

high-quality block-sorting file compressor - utilities

dep:

debconf (>= 0.5)

Debian configuration management system

of debconf-2.0

Pakket niet beschikbaar

dep:

default-mta

virtueel pakket geboden door postfix
virtueel pakket geboden door postfix

dep:

dpkg (>= 1.8.3)

Debian package management system

dep:

iputils-ping

Tools to test the reachability of network hosts

dep:

libarchive-zip-perl

Perl module for manipulation of ZIP archives

Transitional dummy package for Compress::Zlib
Ook een virtueel pakket geboden door: libio-compress-perl, perl

dep:

libdigest-md5-perl

Pakket niet beschikbaar

dep:

libsocket6-perl

Perl extensions for IPv6

dep:

libtime-modules-perl

Various Perl modules for time/date manipulation

dep:

libwww-perl

Perl HTTP/WWW client/server library

dep:

perl

Larry Wall's Practical Extraction and Report Language

dep:

perl-suid

runs setuid Perl scripts

dep:

samba-common-bin

common files used by both the Samba server and client

dep:

smbclient

command-line SMB/CIFS clients for Unix

dep:

tar (>> 1.13)

GNU version of the tar archiving utility

dep:

ucf

Update Configuration File: preserve user changes to config files.