Пакет: stellarium (0.10.4-0ubuntu1) [universe]
Ссылки для stellarium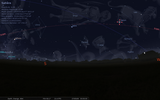 Ресурсы Ubuntu:
Исходный код stellarium:
Сопровождающий:
Please consider filing a bug or asking a question via Launchpad before contacting the maintainer directly.
Original Maintainer (usually from Debian):
It should generally not be necessary for users to contact the original maintainer.
Внешние ресурсы:
Сайт [www.stellarium.org]
Подобные пакеты:
real-time photo-realistic sky generator
Stellarium renders 3D photo-realistic skies in real-time. With stellarium, you really see what you can see with your eyes, binoculars or a small telescope.
Some features:

 - Over 120000 stars from the Hipparcos Catalogue with name and infos for the
   brightest ones,
 - Planets in real time, with a powerful zoom mode to see them like in a
   telescope,
 - Drawing of the 88 constellations with their names,
 - Drawing of more than 40 messiers objects (Orion, M31 etc..),
 - Photorealistic Milky Way,
 - Ground, fog, and landscape,
 - Clickable stars, planets and nebulas with informations,
 - Windowed and fullscreen modes.

Stellarium should not be used for very high accurate calculation or ephemerids like eclipse predictions. However, it is the ideal program to prepare an observation evening with naked eye, binocular, or small telescope.
Другие пакеты, относящиеся к stellarium
Загрузка stellarium
Загрузить для всех доступных архитектур

| Архитектура | Размер пакета | В установленном виде | Файлы |
| --- | --- | --- | --- |
| amd64 | 3 044,2 Кб | 6 612,0 Кб | [список файлов] |
| i386 | 2 967,9 Кб | 6 292,0 Кб | [список файлов] |