Пакунок: xpaint (2.8.13-2) [universe]
Links for xpaint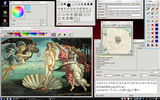 Ubuntu Resources:
Download Source Package xpaint:
Maintainer:
Please consider filing a bug or asking a question via Launchpad before contacting the maintainer directly.
Original Maintainer (usually from Debian):
It should generally not be necessary for users to contact the original maintainer.
External Resources:
Similar packages:
simple paint program for X
XPaint is suitable for producing simple graphics. It does offer some advanced features such as image processing functions and gradient fill.
In the C Script Editor of XPaint, the External editor in the File menu will invoke x-terminal-emulator -e sensible-editor.
The gv package will be needed for PDF/PS reading, netpbm will be needed for external conversion, lpr for printing.
Інші пакунки пов'язані з xpaint
sug:

editor

virtual package provided by bogl-bterm-udeb, cream, edbrowse, elvis, elvis-console, emacs, emacs-snapshot, emacs-snapshot-nox, emacs22, emacs22-gtk, emacs22-nox, emacs23, emacs23-lucid, emacs23-nox, jed, jove, le, levee, mg, mped, nano, nano-tiny, nano-udeb, ne, vigor, vile, vim, vim-gnome, vim-gtk, vim-nox, vim-tiny, xjed, xjove, xvile

sug:

gv

PostScript and PDF viewer for X

sug:

imagemagickb

Пакунок недоступний

sug:

netpbm

Graphics conversion tools between image formats

sug:

ocrad

Optical Character Recognition program

sug:

x-terminal-emulator

virtual package provided by aterm, aterm-ml, eterm, evilvte, gnome-terminal, guake, konsole, kterm, lxterminal, mlterm, mlterm-tiny, mrxvt, mrxvt-cjk, mrxvt-mini, multi-aterm, pterm, roxterm, rxvt, rxvt-beta, rxvt-ml, rxvt-unicode, rxvt-unicode-lite, rxvt-unicode-ml, sakura, terminal.app, terminator, tilda, vala-terminal, wterm, wterm-ml, xfce4-terminal, xterm, xvt
Завантажити xpaint
Завантаження для всіх доступних архітектур

| Архітектура | Розмір пакунка | Розмір після встановлення | Файли |
| --- | --- | --- | --- |
| amd64 | 532.9 kB | 1,912.0 kB | [список файлів] |
| i386 | 498.2 kB | 1,844.0 kB | [список файлів] |