套件: grisbi (0.5.9-4ubuntu1) [universe]
grisbi 的相關超連結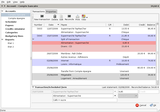 Ubuntu 的資源:
下載原始碼套件 grisbi:
維護者:
Please consider filing a bug or asking a question via Launchpad before contacting the maintainer directly.
Original Maintainers (usually from Debian):
Stephane Glondu
Roberto C. Sanchez
It should generally not be necessary for users to contact the original maintainer.
外部的資源:
相似套件:
personal finance management program
Grisbi is a personal accounting program. Grisbi can manage multiple accounts, currencies and users. It manages third party, expenditure and receipt categories, as well as budgetary lines, financial years, and other informations that makes it adapted for both personal and associative accounting.
Grisbi can import accounts from QIF, OFX and Gnucash files. It can print reports using LaTeX or export them via HTML.
其他與 grisbi 有關的套件
sug:

texlive

TeX Live: A decent selection of the TeX Live packages

sug:

www-browser

本虛擬套件由這些套件提供: arora, chimera2, chromium-browser, conkeror, edbrowse, elinks, elinks-lite, elvis, elvis-console, epiphany-browser, firefox, konqueror, links, links2, lynx-cur, midori, netrik, netsurf, rekonq, seamonkey-browser, w3m, xemacs21-mule, xemacs21-mule-canna-wnn, xemacs21-nomule